Running an activity center is a challenge in itself. Like Dan Krüger (CEO and owner of Hop N Pop), running and developing a chain of activity centers requires something extra. Hop n Pop is a business that has really embraced the opportunities of digitalisation and dared to work with innovative technology. We have met Dan who tells us more about his thoughts and the challenges of digitalisation.
The mistake many businesses make is that they think the only way to achieve their goals with digitisation is to develop a system all by themselves." says Dan Krüger.
What is Hop N Pop?
Hop N Pop was founded in Trollhättan in 2017 and is currently located in four different cities. Hop N Pop is filled with activities such as trampolines, climbing walls, and more. Here you can do everything from super-serious exercise to the most childish games. And then the events are also very important, as they generate a large part of the bookings. In addition to the park of activities, Hop n Pop also has a café section where you can find drinks and food to recharge your energy levels.
Finding the right digital tools
When Hop n Pop started in 2017, it was already in a pretty digital world with a whole bunch of digital tools left and right.
"When I started the company, I was looking for elements to set the foundation for the company and the booking system was an important part of that," says Dan Krüger.
The closest thing Hop n Pop could identify as in the beginning was actually a gym, so Dan initially looked at many gym systems to handle memberships and bookings. Finding a booking system that suited the business was a challenge.
Dan met Funbutler early in the process. Funbutler was convenient and had a payment service (Billmate) attached to it, which was crucial. The combination formed the basis for a complete digital solution. The next step was to add the cloud-based checkout system Onslip, which in turn is seamlessly integrated with Fortnox accounting software. Hop n Pop's requirements were that there should not be too many steps in the booking process, and that it should be as simple as possible for the customer. The most important thing is the guest experience!
More efficient everyday life with digital solutions
Then, when Hop n Pop launched in 2017, it was still quite new for everyone to be able to book online and then just pop in. Using Funbutler's web-based booking system, Hop n Pop was able to stay at the forefront of technology and give guests the ability to focus on the experience. Over time, digital literacy also grew among customers.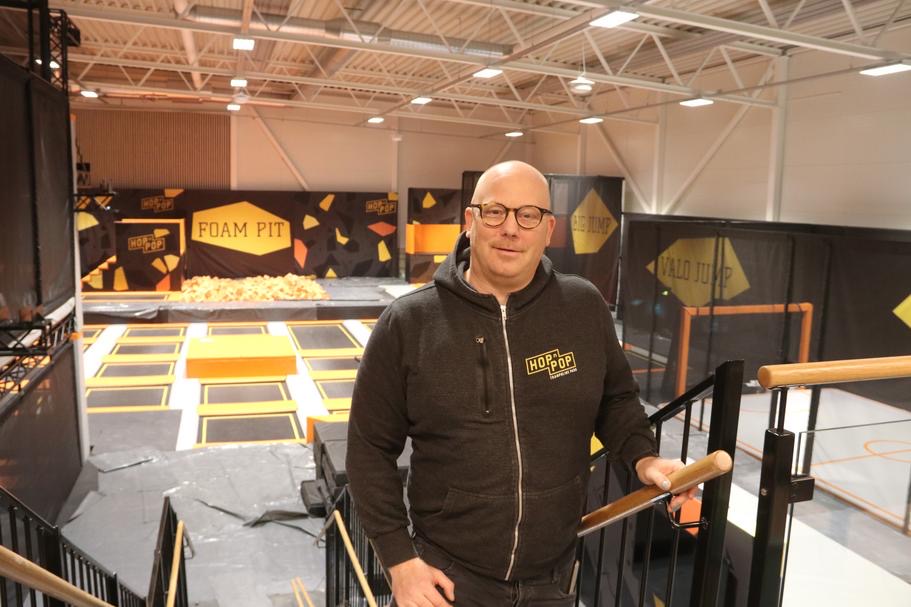 Hop n Pop has been able to reduce the amount of incoming phone calls, as the booking system shows directly on the website whether there are places or dates available or not, along with other important information. However, some people still call in if there is a specific question about a booking, party, admission or similar.
There and then it was optimal for us, at the same time we are developing quickly and Funbutler has really been very responsive when it comes to new features that make our everyday life easier" says Dan Krüger.
A unified ecosystem of digital solutions
Today, Hop n Pop is a chain with several parks and units across Sweden. The booking system and digital tools are still a central part of the business.
"It feels like it's Hop n Pop all the way, and that's important to us. The booking system that's on the website really feels like it's ours, even from the customer's perspective," Dan says. Of course, another important aspect of it all is that although it's a very powerful and advanced system, Hop n Pop itself can make adjustments to the system if needed.
Dan sees the value in automating what happens after the bookings and payments, in other words the accounting. "The link between Funbutler, Billmate and the Onslip checkout system is perfect, where we receive everything directly without having to go in and do a lot of manual work ourselves."
I think drop-in and spontaneous visits are increasing," says Dan Krüger.
The future is all about the guest
Today, Dan Krüger has been running Hop n Pop for six years. In the future, he sees continued opportunities with the booking system helping to promote the guest experience, and that spontaneous visits and drop-ins will increase. When people can book, pay and check in themselves without the help of staff, more time and resources can be devoted to the guests on the spot.
Get started.
Feel free to contact us to hear more. Fill in the form to book a guided demo of our booking system.
+46 10 707 95 40
info@funbutler.com
support@funbutler.com