The year 2021 has passed and it was a very special year in many ways. Just like the year before, the entertainment and activity industry struggled to survive and eventually emerge stronger from the effects of the pandemic.
Last year testified to both high peaks and deep valleys, but also a great deal of hard work and determination on the part of the industry in general. They refused to give in, again they had to take into account new restrictions and fast turns.
One day you had to receive a free number of guests at the same time, the next day 50 or when it was at its worst – none at all. These quick turns and demands for flexibility have also developed us as a booking system as we were out early and with the system as help, were able to ensure that the maximum number of guests was followed.
Restrictions and fast turns
When the restrictions change, so do the conditions for being able to succeed as entrepreneurs and managers in many different industries, not just the entertainment and activity industry. What many have learned is to think quickly, be able to be flexible and be able to quickly change their businesses in order to continue to be able to offer their customers a pleasant stay or experience.
We have closely followed how our customers purposefully adjusted and not only been able to survive, but also develop as entrepreneurs during a continued difficult time.
New year with new behaviors and trends
If we look at January to April 2022 against the same period in 2021, we see a 124% increase in the number of booked activities at Funbutler's customers. The figures and comparison are based on activity centers in Sweden, Norway and Central Europe that use the Funbutler booking system.
If we then look further at the use of the system during the first part of 2022 compared with the same period last year, we also see that the behavior of consumers has changed significantly. In a short time, the use and purchase of supplements in connection with the bookings has increased and many activity centers have opened up for more customized bookings.
Even though finished packages are still going very well, the power is very great when it is possible to design your own packages based on your wishes. In addition to the activity itself, this can be supplements such as food, drinks, merchandise and other experiences.
On this page you can watch a video to learn how to work with add-ons in the Funbutler booking system.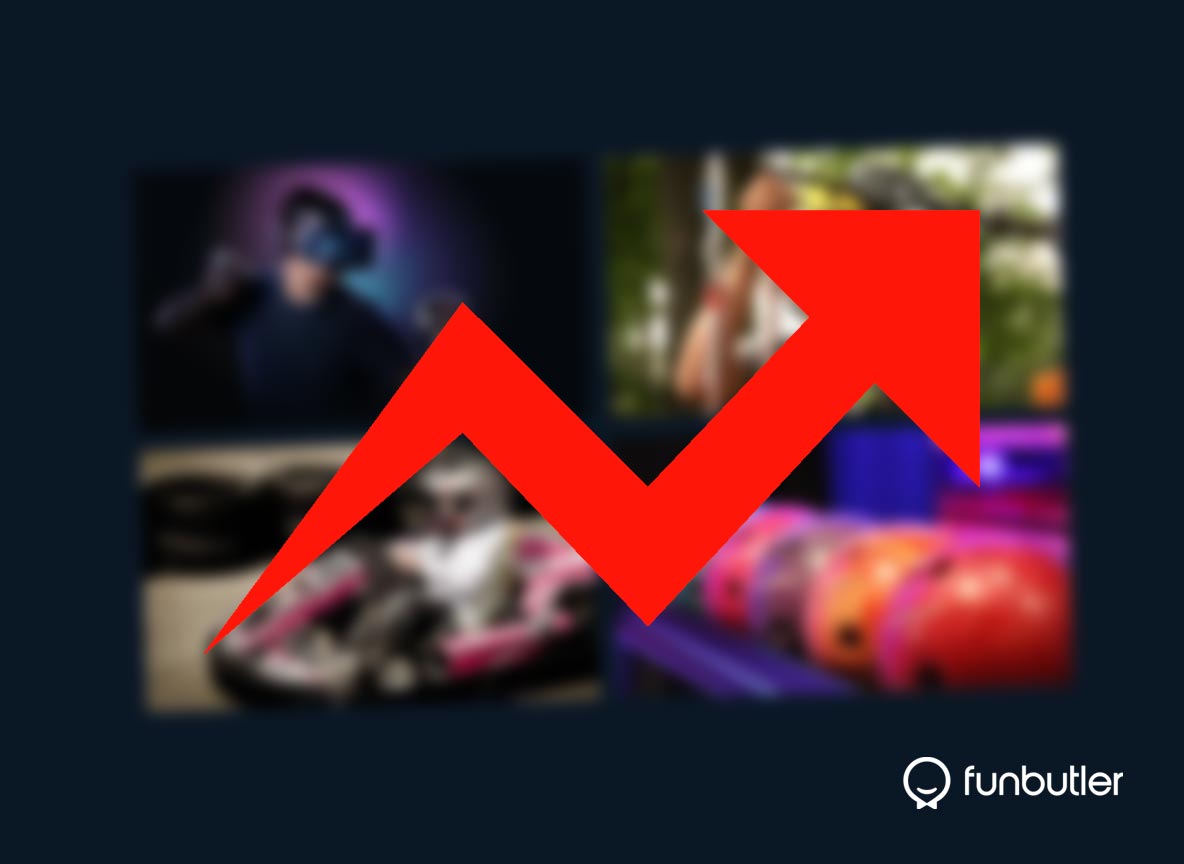 Get started.
Feel free to contact us to hear more. Fill in the form to book a guided demo of our booking system.
+46 10 707 95 40
info@funbutler.com
support@funbutler.com